We are constantly trying to stop the clock, and many of us will do anything and everything to "turn back time" as Cher so famously sang about in her hit song.
There's no denying that aging is unavoidable, but we can at least try to slow it down and improve our appearance and health.
The combination of nutrition and exercise has always been the foundation of a healthy lifestyle, and without one the other is continually working overtime, resulting in limited long-term results. I want to help you achieve your greatest health, confidence, fitness, and beauty!
I invite you to look at my programs on Own Your Fitness and Own Your Nutrition
Preventive Health Screenings for Women over 50
Have you scheduled your regular and/or preventive medical appointments? When women hit the big "50" there are several additional preventative procedures, like a colonoscopy, bone density test and regular mammograms, and an eye exam are recommended. As you age, your risk for certain diseases and health conditions increases, so staying on top of these recommended screenings can help you stay healthy.
Also, have your doctor order a CBC (complete blood count) at least once per year to see if there are any issues with your blood, like anemia or a problem with your immune system. The test can also see if you're at risk for certain health conditions.
Lab Tests Online: Empower Your Health
Have you heard of Walk-In-Lab? They offer the widest range of individual lab and blood tests in the direct-access testing industry. You can order blood tests online and visit a Walk-In-Lab location to get tested. They also provide online medical consultation with licensed physicians for all blood tests and lab tests.
Facing 50 and Menopause: The Tests You Need to Take After the Transition
Also, as women enter perimenopause and menopause, they may experience a variety of symptoms and health conditions that require medical attention. For example, many women experience a reduction in bone density during menopause. Having your bone density measured is a good idea if you are perimenopausal or experiencing menopause or require a bone-building regimen.
Finally, scheduling a visit with an eye doctor every two years to get a comprehensive eye exam is another important preventative measure for women over the age of 50.
I strongly suggest you get these routine exams and procedures done. Avoiding them can keep you from being able to eliminate a scary health issue, one that would be much less frightening if it were discovered early.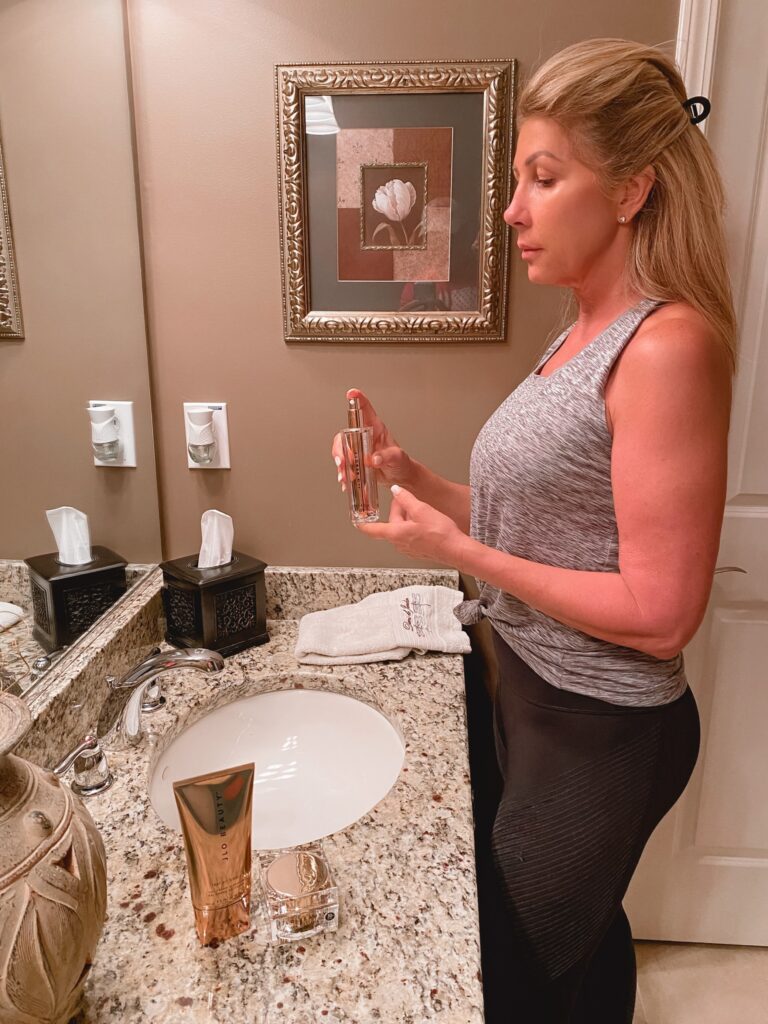 Preventive Skin and Body Care Delays Aging
Beauty is probably one of the most stressful topics for women over 50! There is no doubt that women spend billions of dollars annually on "quick and efficient" weight loss products, miracle anti-aging creams and lotions, and noninvasive procedures because they all offer the same thing: quick and efficient results. Who doesn't want something fast and effective?
The problem and main concern with this concept is does it really work for normal, non-celebrity women, who cannot afford the outlandish costs involved with many of these products and procedures?
There are other ways to combat aging and improve your appearance without breaking the bank. You can adopt a healthy lifestyle that promotes anti-aging benefits such as a balanced diet, regular exercise, and stress reduction.
You don't have to spend a lot of money to look your best. Many affordable beauty products are just as effective as their more expensive counterparts. You can get creative with your beauty regimen.
Your body can age gracefully only if you do some of the hard work by regulating what you put inside and outside of your body. Rather than being used as a miracle cure, anti-aging products can assist your body's natural aging process by helping you stay youthful longer.
I recommend using a daily moisturizer with sunscreen, even if you aren't at the beach. Also, drinking water with lemon throughout the day is probably the most important thing you can do for your body and skin. The dirt and chemicals in regular tap water can clog your pores, making your skin look less healthy. So I drink filtered water using my Brita filter to keep my skin glowing.
50-Plus Beauty and Anti-Aging Skin Care
Over the past 10 years, I have tried a variety of beauty brands to combat aging. My favorite at the moment is JLO Beauty by Jennifer Lopez, who looks gorgeous for being in her 50's. I thoroughly enjoyed watching her makeup-free Facebook video where she used her products and was very honest about them.
I decided to give her products a try by ordering the starter kit, which was very reasonably priced and contained enough to last 60 days. After 60 days, I ordered the full-sized products after having great results with the starter kit. I haven't used anything comparable in size before, so you get a lot for your money with this product!
My husband and I have been using her anti-aging products for over 4 months now, and our skin looks great! Our skin appears more even, and firmer, and the fine lines around our eyes and mouths have noticeably diminished. My hands and neck have also improved, and you know how tell-tale aging signs show up there first.
You will be pleasantly surprised at what a difference her products make in reversing the dark spots, and other aging signs!! Take a look at Jennifer Lopez's beauty line for yourself.
My husband and I also use Zo Skin Health's Illumination AOX Serum and their Exfoliating Polish, which was recommended by our medical spa, in addition to our daily JLO Beauty anti-aging regimen. More about our favorite medical spa later.
Mother Knows Best
My mother always gave me great advice. Instead of washing my hands after applying facial moisturizer, she recommended rubbing the excess onto the outside of my hands, which has kept them looking much younger than their actual age!.
Medical Spa Treatments to Prevent Aging
I've said before that I believe it's difficult to conceal problem spots on my neck and around my mouth, no matter how much make-up, concealer, or shading you apply. Because of this, I've been more aggressive with my anti-aging treatments in those areas.
PRX-T33 Peel: It's Not What You Think
Take a look in your area for medical spas that offer facial treatments. John and I are clients of Dr. Randy Rudderman at Plastic Surgery and Medical Spa. He has offices in Alpharetta and Atlanta, Georgia. I recently had PRX-T33 treatments on my face, and my husband was so impressed with the results that he immediately booked a treatment for himself. This nonsurgical skin rejuvenation procedure has been a miracle for my face and neck.
I had this procedure done by Tonya Grismer, a Medical Aesthetician & Laser Practitioner at Dr. Rudderman's office, and it was a total game changer! It was done in four sessions, two weeks apart, and it was amazing!
The anti-aging benefits of the PRX-T treatment are fabulous. My facial complexion is more even-toned, firm, smooth, and hydrated with improved elasticity, and reduced fine lines and wrinkles.. All skin types can benefit from this treatment, which involves no downtime, no pain, no needles, and no peeling.
I began to receive compliments from strangers and shocked looks when I had to show my driver's license to prove my age. Not only that, but my husband interrupted me in mid-sentence one evening and said, "babe you have absolutely no wrinkles on your face, your skin looks amazing and you look at least 10 years younger!" This compliment boosted my confidence and I beamed with happiness!
PRX-T Treatment Cost
The treatments cost around $1200 for 4 sessions, but the results are practically immediate, with noticeable improvement after the 1st treatment, with no downtime, and are long-lasting. It was worth every single penny! I have been lucky enough to be a client of Tonya's for years, and her noninvasive facial treatments have kept cosmetic surgery at bay. I'm not saying I won't ever join this group in the future, however; these treatments are preventing me from joining anytime soon.
Please tell them that Melissa from Own It referred you for a discount.
Owning Your Womanhood
Owning Your Womanhood means to me that you allow yourself to be strong, smart, courageous, and feminine at the same time.
Men dominate the corporate world. I had to act like a man in a woman's body when I was an Executive. However, I had no desire to continue that persona when I stepped into my home.
It is Not a Sign of Weakness to Let Your Man Lead
I wanted my husband to be the leader and protector of our home. However, this did not mean that I would willingly surrender my voice or be dictated to. My respect for him as a man allowed him to be one. In return, he treats me with complete respect and values my input as his partner.
Our previous spouses neglected to consider the relationship as an equal partnership, preferring to control every decision and twist the outcomes to their benefit, which led us to very painful and disastrous relationships. A relationship that has one person acting like a dictator is not a true partnership. These types of relationships usually don't last, and if they do, they are extremely unhappy, particularly for the person without a voice.
It's not a sign of weakness if you let your husband take the lead, but rather a sign of confidence in his ability to care for his family.